Shrink Tunnel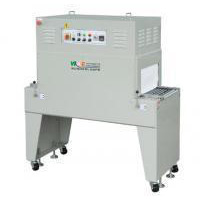 Shrink Tunnel
Product ID: TO-05 / TO-10 / TO-21 / TO-27
A nice shrink tunnel must have two benifits:Constant temperature and energy efficiency; and that's what makes our LC series products the excellence. LC series product is installed with automatic temperature control and hot circulator; it can maintain constant temperature and saves more energy to strengthen your competitiveness.

This shrink tunnel completes whole packaging procedure automatically, and it uses roller conveyor so the speed of packaging can be adjusted freely. LC series product is CE certified, the very only machine you need to make packaging perfect.
Features:
The Shrink Tunnel Employs infrared ray titanium heater tube for greater heating capability while saving power.
Efficient hot air circulation in the oven combined with uniform temperature distribution
provides fast shrinking performance from our equipments.
Feed conveyor is driven by a variable speed motor for convenient speed adjustment.
Full shrinking is quickly accomplished in only three seconds.
Feed speed may be adjusted to over 7.5 meters per minute.
Fast warm-up permits for operation-ready status in only 10 minutes.
♣ Shrink Tunnel Application

For shrink-packaging various products, such as general foods, electronic products,
stationery, gift boxes, daily appliances, medicine, salted products, hardware, tools,
electrical appliances, bamboo and wood products.
Shrink Tunnel MODEL

TO-05

TO-10

TO-15

TO-21

TO-27

TO-40

TO-54

Shrink Tunnel Size
700x
400x200
mm
1000x
400x200
mm
1200x
500x200
mm
1500x
600x300
mm
1800x
700x400
mm
2000x
900x500
mm
3000x
1000x500
mm
Machine Size
1050x
600x630
mm
1350x
700x1400
mm
1800x
800x1500
mm
2400x
900x1550
mm
3000x
1000x1650
mm
3200x
1200x1750
mm
4500x
1300x1750
mm
Packaging
Size
390x180
mm
350x120
mm
450x220
mm
500x200
mm
600x300
mm
800x400
mm
900x400
mm
Motor
25Wx2
1/2HPx1
25Wx2
25Wx2
1/2HPx1
1/2HPx2
1/2HPx3
1/2HPx3
1/2HPx4
1HPx1
Conveyor Speed
0~8
0~8
0~8
0~8
0~8
0~8
0~8
Power Source
220V
220V
220V
220V
220V
220V
220V
Heating
5kW
10kW
15kW
21kW
27kW
40kW
54kW
Hot Products