WCH-605S Semi-Auto Flap Folding Carton Sealer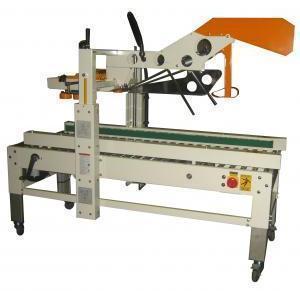 WCH-605S
Product ID: WCH-605S
The WCH-605S is a semi-automatic with a top and side driving system.This machine is designed to handle the heaviest products or larger box. The flap closing device knocks down the leading and trailing flaps of the carton then folds the side flaps prior to sealing the top and bottom of the box. This carton folding sealing machine has been designed and manufactured according to the CE standard. 2" taping heads or 3" taping heads are according to customer required.

Features:
When operators feed carton into the machine, the machine will automatically fold the carton's front flap, rear flap and side flaps, then proceed to tape the carton and send out the carton.
Flap Folding Sealer with two sides belt driven.
The height and the width of the carton can be adjusted by crank handle, easy adjustment.
This machine is suitable for few carton size simplicity production line.
Tape Width: 2" or 3" (according to customer's need).
♣ Application
WONDERFUL AUTOMATION Case Sealers are designed to fulfill your production requirements.
The case sealing machine is great for both top and / or bottom box sealing with tape or glue .
The case sealers are designed for a variety of different needs: uniform or random case sizes,
narrow or wide tape, top and bottom sealing, side sealing, automatic flap folding etc. The
case sealers may be used as part of individual packaging stations or as part of a fully automatic
packaging line., and also a hot-melt adhesive is applied.
| | |
| --- | --- |
| MODEL | WCH-605S Semi-Auto Flap Folding Carton Sealer |
| Machine Size | L1930xW1060xH1800mm |
| Carton Size | L200~600mm / W130~500mm / H 120~500mm |
| Convey Speed | 20M / min |
| Seal paste method | I type |
| Air pressure | 4-6kg/cm2 |
| Power Source | 3 Ø 220V(Depend on customer's need) |
Hot Products